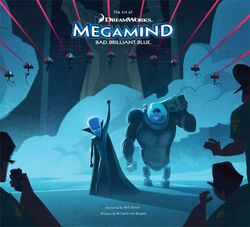 The Art of Megamind is a large format art book published by Insights Editions. It has over 156 pages.
The pages are filled with beautiful concept illustrations from DreamWorks artists. There are colour strips, character designs, background paintings, storyboards and designs on weapons of mass destruction, robots and vehicles.
There are actually more superheroes than there are shown in the trailers, and they are included in the book. There are sketches for each.
The environment designs are also very beautiful and nicely painted. Much is on Metro City and there are also set locations which includes Megamind's lair. The commentaries about the designs and characters.
Ad blocker interference detected!
Wikia is a free-to-use site that makes money from advertising. We have a modified experience for viewers using ad blockers

Wikia is not accessible if you've made further modifications. Remove the custom ad blocker rule(s) and the page will load as expected.